USS CORRY (DD-463) - ABOUT THE SHIP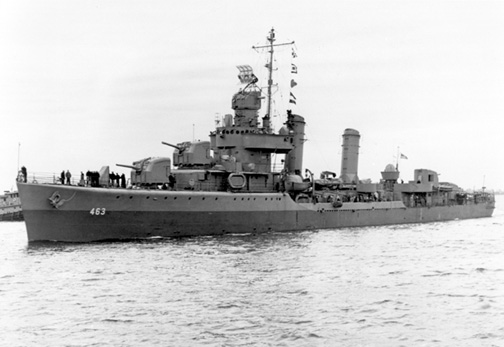 USS Corry (DD-463)

Operational and Building Data:

- Destroyer Ship Class: Bristol / Gleaves
- Laid down by Charleston Navy Yard September 4, 1940.
- Launched July 28, 1941
- Commissioned December 18, 1941.
Specifications:

Length: 348 feet, 3 inches
Beam: 36 feet, 1 inch
Draft: 15 feet, 8 inches
Displacement: 1630 tons
Rated Speed: 35 knots
Range 6500 Nautical Miles @ 12 Knots
Shaft Horsepower: 50,000 HP - Westinghouse Geared Turbines, 2 screws
Armament / Munitions:

- Four 5-inch/38 guns, which fired a 55-pound projectile with max. range of about nine miles
- 40-mm and 20-mm anti-aircraft automatic weapons
- Ten 21-inch torpedo tubes (5x2)
- 600-pound and 300-pound depth charges
USS Corry (DD-463) had three Commanding Officers:

LCDR Eugene Carroll Burchett, USN
— Commissioning Dec. 18, 1941 to December 2, 1942
(1903 - 1973) Retired Rank: Captain

LCDR Lot Ensey, USN
— December 2, 1942 to December 7, 1943

(1908 - 1970) Retired Rank: Vice Admiral


LCDR George Dewey Hoffman, USN — December 7, 1943 to sinking June 6, 1944 (survivor)
(1911 - 1991) Retired Rank: Captain
USS Corry
(DD-463)
received four battle stars in World War II:

One Star — North African Occupation — 8 November 1932 to 9 July 1943
One Star — Norway Raid "Operation Leader" — 2 to 6 October 1943

One Star — Anti-submarine Assessment — 16 to 17 March 1944

One Star — Invasion of Normandy — 6 June 1944
Ship's History / Info

Note: At approximately H-Hour (0630) on D-Day, the USS Corry was hit amidships by a salvo of heavy caliber projectiles that detonated in the engineering spaces and broke the keel. Initial battle action reports confirm this in detail. However, the final official loss of ship report for the Corry, on its last page, stated that it was believed that a mine had exploded simultaneously with projectiles amidships, with the mine believed to have caused major damage, and the projectiles causing "merely incidental damage." Physical evidence obtained later refutes the possibility of a mine exploding under the Corry. Click here to review battle action reports and read details about the sinking of the USS Corry and the physics of the explosion.
As a result of the battle, 24 Corry crewmembers had given their lives, and at least 60 were wounded, many seriously.

Most accounts of the sinking of the USS Corry use the final loss of ship mine report and do not even mention German gunfire.