USS Corry (DD-463)

Words of Thanks to Crew of Destroyer USS Butler (DD-636)
For Rescuing USS Corry Survivors

Plus USS Butler D-Day report showing water temperature.

(Read text below image)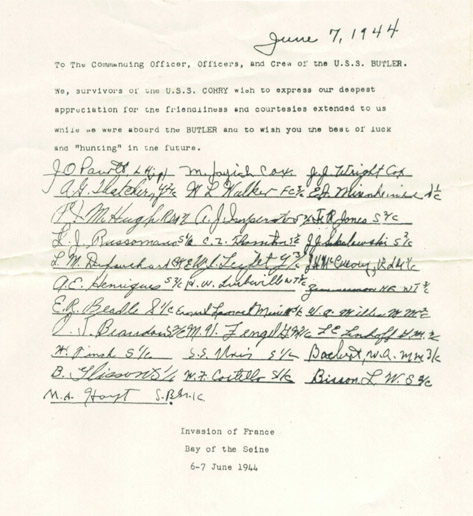 TEXT:

To The Commanding Officer, Officers, and Crew of the U.S.S. BUTLER.

We, survivors of the U.S.S. CORRY wish to express our deepest

appreciation for the friendliness and courtesies extended to us

while we were aboard the BUTLER and to wish you the best of luck

and "hunting" in the future.


BELOW: Destroyer USS Butler (DD-636) D-Day Log.
Water at surface was a bone-chilling 54-degrees Fahrenheit (Column 13).
Water temperature rose to 56 degrees at 0800 A.M.
Air Temperature remained in mid-50's. (Col. 11 - 12)