Grant Gullickson
Chief Machinist Mate,
USS Corry (DD-463)


I grew up on a farm in Taylor, North Dakota and on November 28th, 1939, I joined the US Navy.
My WWII recollections are:
On February 12th, 1940, upon completion of boot camp at Great Lakes, I reported aboard the battleship USS Mississippi (BB-41) for duty. We joined the battle fleet in Pearl Harbor and operated from there until May, 1941. Mississippi then received orders to proceed to the Atlantic for duty. We stopped in Norfolk for supplies and then proceeded to the North Atlantic. We crossed the Arctic Circle in October and remained in the North Atlantic until December 7th, 1941. We then returned to Norfolk and I received orders to a new destroyer, USS Corry (DD-463).
I reported aboard Corry on January 1st, 1942. Corry operated in the battle of the Atlantic for the next 30 months. During this time, we, with other destroyers, led the invasion of North Africa, and the raid on Bodo, Norway. In March 1944, we sank the German submarine U-801 and picked up 47 German survivors and one that was dead. We transferred the live 47 to the USS Block Island (CVE-21). Then we conducted a burial at sea for the dead German sailor. The next day we recovered seven more German survivors from a German sub that had been sunk by a plane from the USS Block Island, including Gunter Leopold, the 23 year old CO of the sunken sub. We kept these men aboard until we returned to Boston. Subsequently we escorted a fully loaded ammunition ship, USS Nitro to Great Britain.
On June 4th, 1944, Corry was steaming in the English Channel and gained sonar contact and attacked an expected submarine with numerous depth charges. The blasts from the depth charges in the shallow water of the Channel caused large vibrations that damaged our gyroscope and broke a drain pipe on one of the forward engine room main feed pumps that feeds the boilers in the forward boiler room. The gyroscope was repaired and this helped ensure our gunnery during the invasion would be accurate. My team and the forward engine room team worked continuously to repair the damaged drain pipe. We knew we would need all four boilers for maximum power and speed during the invasion, and several hours before we came within range of the German guns, repairs were made and all four boilers were on the line with full power available.
On June 6th, 1944, Corry with destroyers USS Fitch and USS Hobson from our division, led the invasion at Normandy Utah Beach. At 0500 German shore batteries opened fire on us and we returned fire an hour-and-a-half. I was the chief-in-charge of the forward engine room and this was my general quarters station whenever we were preparing for or participating in combat operations. At about 0630 Corry received several direct hits. The forward engine room came apart and immediately filled with steam. Somehow we got the hatch to the main deck open and got everyone out although some shipmates were seriously hurt.
By the time we exited the forward engine room, the main deck was under water and our captain ordered abandon ship. I had lost my life vest and I saw Chief Petersen on the main deck. He told me he remembered seeing an extra life vest in the forward chiefs' quarters and I quickly headed there. The ship was strangely quiet as I proceeded to the chiefs' quarters. The life vest was where Chief Petersen said it was. Wearing my new life vest, I went back to the main deck, stepped into the English Channel, and swam out to a life raft and hooked my arm into a floater net.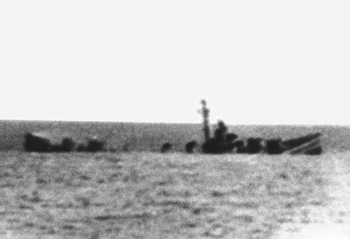 USS CORRY SINKING ON D-DAY
The water was extremely cold. (between 52 and 54 degrees Fahrenheit) Within minutes of entering the water I felt a mild concussion followed by a hissing sound. I realized that a shell had burst in the water close to me and that shrapnel had passed over my head—German shore batteries continued to fire into our area for about two hours. Several shipmates were killed and many wounded while we were in the water. However, I was not hurt but the cold water was starting to get to me and my energy was running out, and unless rescue came soon I wasn't going to make it. Up to now I had pretty well had my feelings under control, but then fear set in, I began to tremble and shake all over—I was truly terrified.
A short time later, our sister destroyer Fitch appeared close by. She was firing to port while her whaleboat crews bravely and skillfully picked up Corry men to starboard. A Fitch sailor pulled me aboard the Fitch and all of the Fitch crew treated me and the other Corry sailors with great care and support. After some hot coffee and dry clothes (I had lost everything except for my trousers after we were hit), I was again up and about. Aboard Fitch I learned that my close friends and shipmates B J Petersen, Charlie Brewer, and several others had been killed by shrapnel while they were in the water. I and others from Corry will always appreciate the Fitch crew for their courage and professionalism.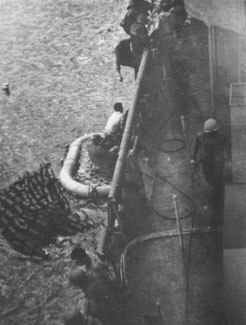 Corry survivors climbing aboard destroyer
USS Fitch (DD-462) June 6, 1944

I then returned to the States and went back to Charleston, SC, commissioned a new ship, USS J Q Roberts, and went to the Pacific. Roberts had embarked a team of frogmen (UDT) that we were going to take into the waters off Japan, and their mission was to take out underwater obstacles prior to the landing of troops in the invasion of Japan. We knew this would be a very risky mission and were very glad to see the war come to an abrupt end. We were in Tokyo Bay when the Japanese surrendered.
I completed 30 years in the US Navy on December 1st, 1969. Most of my career was spent on ships, including serving as chief engineer of USS Aldebran, USS Rigel, USS Northampton, and USS Forrestal. I also served in USS Barney (DDG-6) in Operation Sea Dragon off Viet Nam in 1967 during which Barney earned one battle star.

(June 2002) - I think history is a very important thing. The older I get, the more I recognize that. And that's why I think it's very important that us old guys talk about it. As we have seen with 9-11, there's a lot of people in the world who do not like us and would like to see us gone. And if this is a fact of life, then I believe that talking about the tragedies of war will maybe help.


Grant Gullickson
Chief Machinist Mate, USS Corry (DD-463)
Commander, United States Navy (retired)