Owen Keylon
Electrician's Mate, 2nd class, USS Corry (DD-463)
(From an Oklahoma newspaper article)
Invasion Day was a grim reality to Owen Keylon, of Kiefer, petty officer second class, in the United States navy, who hung onto a life raft in the cold Atlantic for two hours after his destroyer was shot out from under him, and who saw many of his buddies killed by the German eighty-eights as they hung onto the raft waiting to be picked up.
"We were doing our job, " Keylon stated, "running up and down the beach about a mile from shore, bombarding the beaches of France preceding the landing of Allied troops, when our destroyer was hit and damaged beyond repair. Most of the casualties from our destroyer were killed by the German three-inch guns as they fired at us while we were helpless in the water.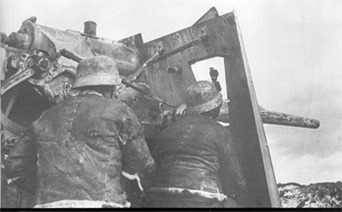 German 88-millimeter (3-inch) Gun
"After we were picked up by another destroyer we were taken to England and for a day we were just regular 'G I Joes' and not 'gobs' as we were issued regulation army clothing and it wasn't until we reached Plymouth, England, that we received navy uniforms again.
"The Germans were pretty well fortified for the D-Day invasion. They knew we were coming but their preparations could not compare with our attack as the English Channel was a continuous line of ships, and overhead all you could see was Allied planes."
Petty Officer Keylon, electrician in charge of gyro-compass and repair communication systems, a vital part of any ship engaged in combat, considers the day their destroyer sank a German submarine the most exciting in his one and a half years of active duty, usually with a convoy comprised of a task force carrier, cruiser and three other destroyers who took Allied planes in to bomb enemy shipping, etc.
"I have been a lot of places including Iceland, Scotland, England, Casa Blanca, Bermuda, the Panama Canal, crossed the Arctic Circle up to 78 degrees and have seen many wonderful sights such as the monstrous icebergs you see in the newsreels, etc., but the United States is for me as soon as we can get this war won," says Keylon who has only memories of the places he has been since he lost all his souvenirs when their destroyer was sunk.
Keylon is the son of Mr. and Mrs. H. A. Keylon of Kiefer. He graduated from the Kiefer high school, Tulsa Business college and was employed in the offices of the Chrysler and Plymouth agency in Tulsa at the time of his enlistment into the navy in May, 1942.
Keylon who escaped all enemy thrusts and received not a single scratch in these engagements, was the willing victim of a dart from Cupid's bow shortly after his arrival home recently. His marriage to the former Helen Frankenberger took place here last week at the Sacred Heard Catholic church.


Owen Keylon
Electrician's Mate, 2nd class
USS Corry (DD-463)