USS CORRY (DD-463)

NAMESAKE: LIEUTENANT COMMANDER CORRY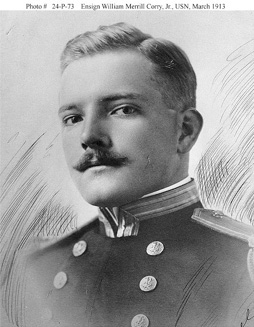 William Merrill Corry was born October 5, 1889, in Quincy, Florida. A 1910 graduate of the U.S. Naval Academy, he became a naval aviator in 1916 and served with distinction in command of the air station at Le Croisic, France, during World War I. In October 1920, Lieutenant Commander Corry was injured in an airplane crash. He was thrown clear of the plane, but he rushed back into the burning wreckage to save the plane's pilot. In doing so he sustained severe burns and died a few days afterward. For his heroism he was posthumously awarded the Congressional Medal of Honor.
There have been three destroyers named USS Corry in honor of Lieutenant Commander William M. Corry:
The first USS Corry, DD-334, was launched March 28, 1921, and commissioned on May 25, 1921. After nearly a decade of service the ship was decommissioned in April of 1930, and sold for salvage later that year.
The second USS Corry, DD-463, was launched July 28, 1941, and commissioned on December 18, 1941. She received four battle stars in World War II. After leading the Allied invasion task force, she was sunk off Utah Beach, France, on D-Day, June 6, 1944, in heavy action at the front of the Battle of Normandy.
The third USS Corry, DD-/DDR-817, was launched on July 28, 1945, and commissioned on February 27, 1946. After much service to the navy, in 1981 she was sold to Greece. At least three crewmembers from the DD-463 Corry also served on the DD-817 Corry.

USS Corry (DD-817) website: http://www.uss-corry-dd817.org