The Normandy Invasion -- The Loss of Two Destroyers
The Sinkings of the USS Corry (DD-463) and USS Meredith (DD-726)
| | |
| --- | --- |
| USS Corry (DD-463) | USS Meredith (DD-726) |
FINAL OFFICIAL REPORTS CHANGE THE CAUSE OF THE SINKINGS:

USS Meredith reported multiple times being hit by a bomb. (8 June 1944).
But afterward, the "official" cause of the Meredith's sinking was a mine.
USS Corry reported multiple times being sunk by heavy enemy artillery fire. (6 June 1944)
But afterward, the "official" cause of the Corry's sinking was a mine.
Below are reports from nearby ships USS Tuscaloosa and USS Nevada, where USS Meredith communicated to them that the Meredith had been hit by a bomb, not a mine.
Following the Nevada and Tuscaloosa reports is the action report of the nearby destroyer USS Jeffers (DD-621), which states that Jeffers personnel witnessed the Meredith being hit by a glide bomb.
Finally below is historian Samuel Eliot Morison's description of the Meredith being hit by a glide bomb, which he obtained from first-hand sources.
BELOW: Report of heavy cruiser USS Tuscaloosa (CA-37) -
8 June 1944 02:05 entry, USS Meredith reported she was hit by a bomb.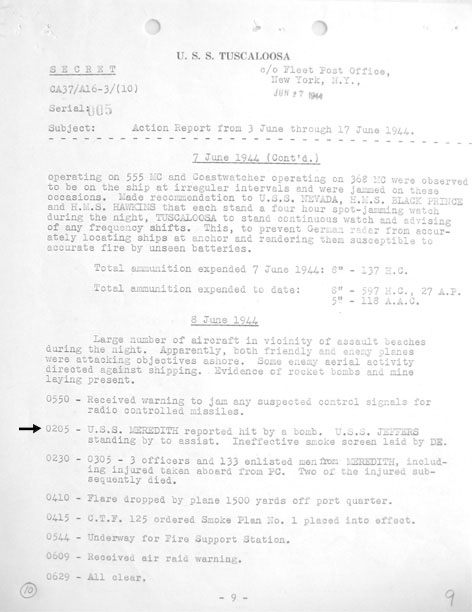 ---
BELOW - Report of battleship USS Nevada (BB-36):
8 June 1944 02:11 entry, USS Meredith reported she was struck by a bomb.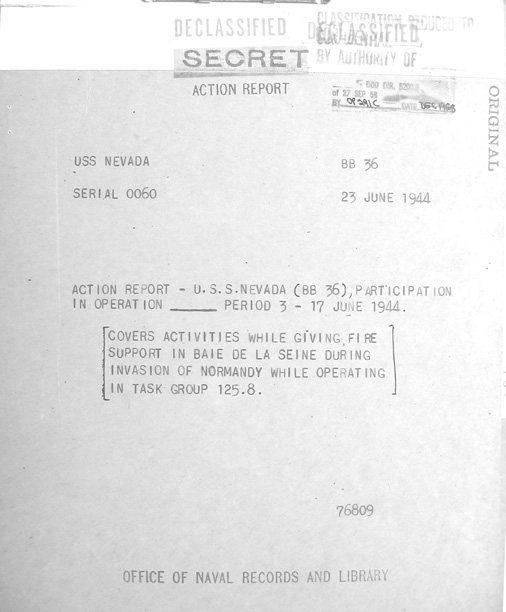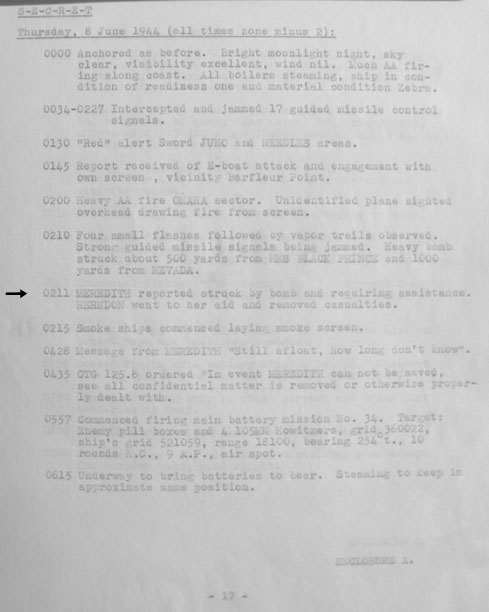 Those aboard the USS Meredith knew the difference between a bomb, which they heard coming from the sky, and a mine, which detonates submerged in the water.
---
BELOW:
Action report of destroyer USS Jeffers (DD-621) stating that
USS Meredith was seen hit by a guided missile glide-bomb.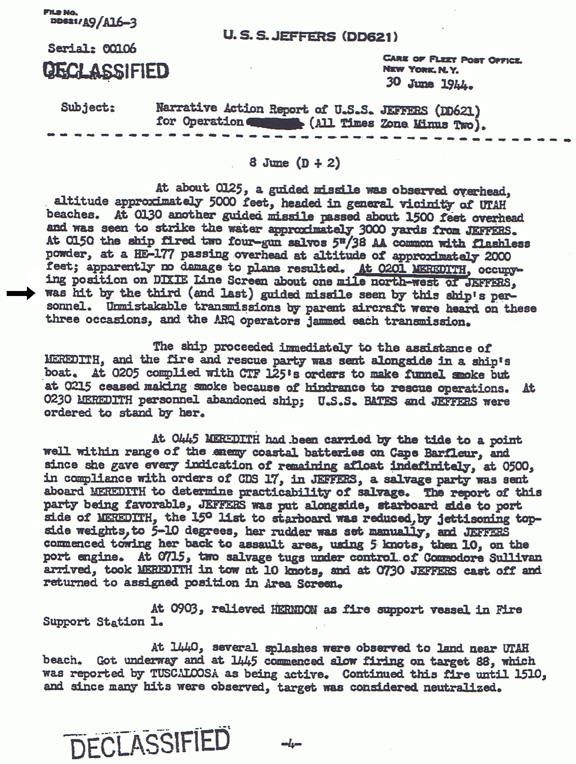 Additionally, on the History Channel Deep Sea Detectives documentary entitled "D-Day Destroyer," shortly before the explosion, USS Meredith survivor Vaughn Collicot, manning the phones in internal control, heard personnel stating, "Here comes a plane." The plane had no IFF signal, so it was an enemy plane. Next they heard a whistle, caused by the tail fins of an incoming bomb. The Meredith was then hit with devastating destruction which created a 65-foot wide hole.

While the History Channel documentary did show the above USS Jeffers report with eyewitness account of Meredith being seen hit by a glide bomb, the crucial evidence that the History Channel overlooked are the two above reports from the USS Nevada and USS Tuscaloosa where the Meredith itself outright reports being hit by a bomb, not a mine.

---
BELOW: HISTORIAN SAMUEL ELIOT MORISON'S ACCOUNT OF THE USS MEREDITH

From the classic historical account History of United States Naval Operations in World War II, in Volume XI "The Invasion of France and Germany" naval historian Samuel Eliot Morison tells what happened to the USS Meredith -- a German HE-177 aircraft fired a radio-controlled, rocket propelled glide bomb that hit the Meredith at 0152 on 8 June. The glide bomb, with its 650-pound warhead, traveled at more than 500 miles per hour. Morison gives sources in his footnotes at the bottom of page 170 as the action reports and commanding officers of ships concerned. Later, however, the "official" Meredith report (further below) stated that at 0152 on 8 June Meredith struck a mine.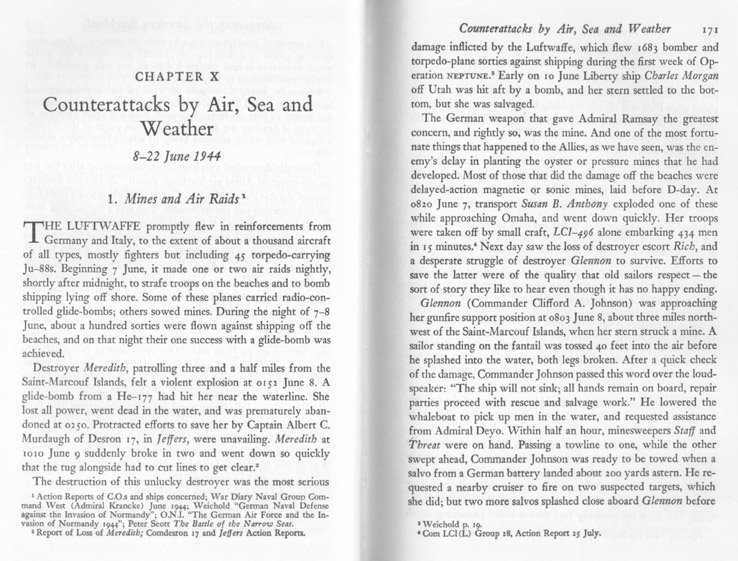 Henschel HS 293 Guided missile glide bomb

Specifications:
Weight: 1045 kg (2300 pounds)
Length: 3.82 m (12½ feet)
Width: 3.1 m (10 foot wingspan)
Diameter: 0.47 m (18½ inches)
Warhead weight: 295 kg (650 pounds)
Engine: liquid-propellant rocket motor,
5.9 kN thrust for 10 s; subsequently glided to target
Operational range: at 2.2 km altitude 4.0 km
at 4.0 km altitude 5.5 km
at 5.0 km altitude 8.5 km
Speed maximum: 260 m/s (580 mph)
average: 230 m/s (515 mph)
Guidance system: Kehl-Strassburg FuG 203/230;
MCLOS using a joystick
One obvious reason for not officially stating that the Meredith was hit by a glide bomb is that the Allies did not even want to admit that the Germans had glide bombs, which were the world's first rocket-propelled guided missiles -- highly advanced and effective weapons. In late November 1943 the Allied troop ship Rohna was sunk by a German glide bomb that was launched from a German airplane, but all survivors of the Rohna were ordered to say that the Rohna was sunk by a torpedo fired from a German submarine, and for them to say anything about the glide bomb would mean their immediate court martial and execution for aiding the enemy. The Allies did not want the Germans to know how effective and deadly these glide bombs were. Changing the official cause of loss of a ship to a torpedo or a mine might cause the enemy to speculate as to whether its glide bomb weapon had actually hit the Allied ship.
---
Below: "Official" Loss of Ship report for USS Meredith, which gives an entirely different story about the Meredith, stating that on 8 June at 0152 Meredith struck what was believed to be a submerged contact mine. Entry "5." tells of Meredith hitting a mine.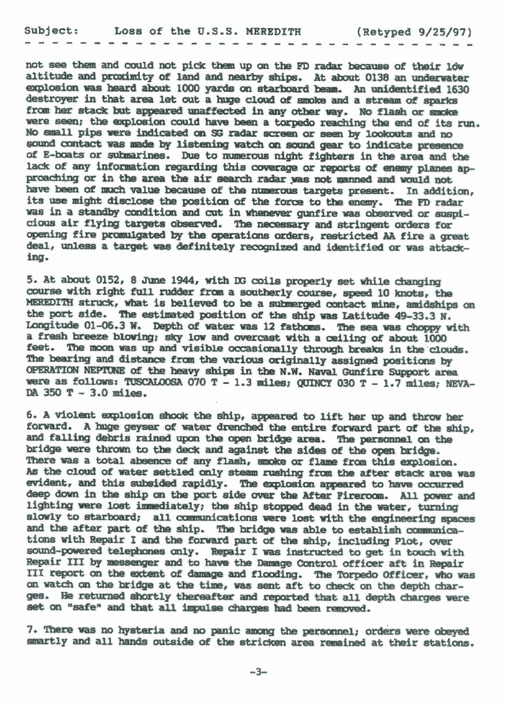 With the USS Meredith having previously reported multiple times being hit by a bomb, if a later different explanation were given such as, "For a long time it was believed the cause of the deadly explosion on the Meredith was a bomb, and USS Jeffers may have thought they saw a glide bomb hit the Meredith, but now it is fully believed that the fatal damage to the ship was caused by a mine," then USS Meredith would be repeating the same story that was given for USS Corry, where it was originally reported several times that the Corry was sunk by heavy enemy artillery fire, but, two weeks after D-Day, at a survivor camp in Scotland, following a meeting of the commanding officers of USS Meredith, USS Corry, and USS Glennon (DD-620), all three of these destroyers were "officially" declared sunk by mines. After that meeting, the Corry's detailed and ready-to-be-submitted loss of ship report, stating heavy artillery fire as the cause of the Corry's sinking, was suddenly torn up and the report was re-written with her cause of sinking changed to a mine -- Corry's new final official report on its last page stated that "it was believed for a long time that the cause of the fatal damage of the ship was a salvo of heavy caliber projectiles..." but "...it is now fully believed that the major damage was due to a mine and that the shelling received simultaneously and shortly thereafter resulted in merely incidental damage." Astonishingly, the simultaneous shelling officially attributed to causing "merely incidental damage" to the Corry was a salvo of monster 8.25-inch, 300-pound projectiles hitting the Corry at point-blank range. Meredith's cause of sinking was simply changed outright from a bomb to a mine and no explanation was given for the change.
Battle report noting changed account of the loss of the USS Corry
Post-Invasion Report — Cruiser Division Seven — 1 July 1944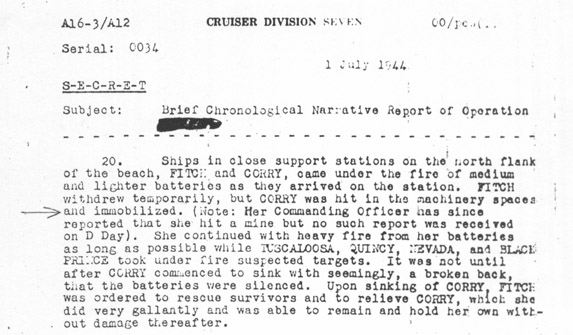 A salvo from the Saint Marcouf battery hit the Corry amidships on D-Day. Pre-D-Day Intelligence reported six 155-millimeter (6-inch) medium guns in the Saint Marcouf battery, but those guns were moved and three heavy long-range 210-millimeter (8.25-inch) guns were installed. These were bigger than the guns of a heavy cruiser.
---
Source of above reports: U.S. National Archives. All reports fully declassified.
---