USS CORRY (DD-463)

UTAH BEACH BOMBARDMENT MAPS AND REPORTS

Below: USS Corry is on the front lines in Fire Support Area Three.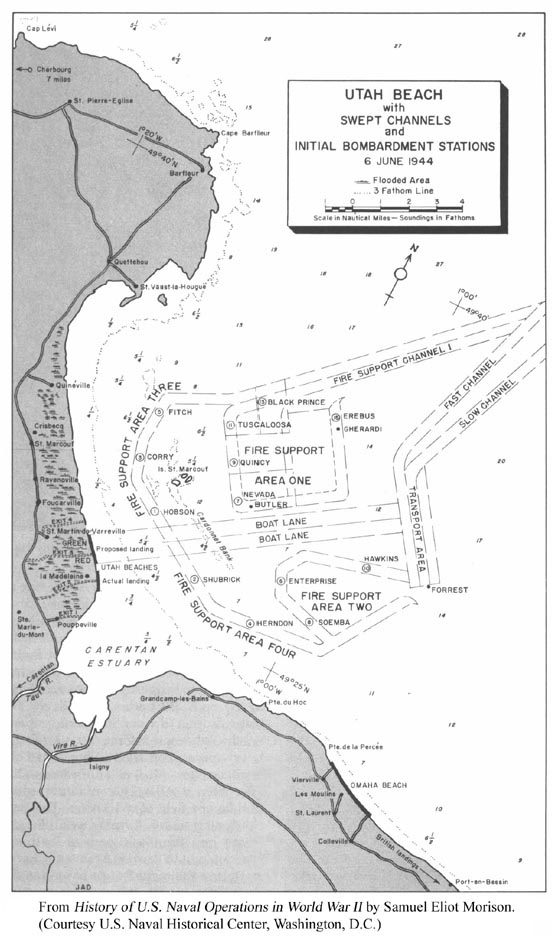 BELOW:
USS Corry Assigned Target Numbers on Utah Beach.
These strongpoint targets were closest in front of USS Corry.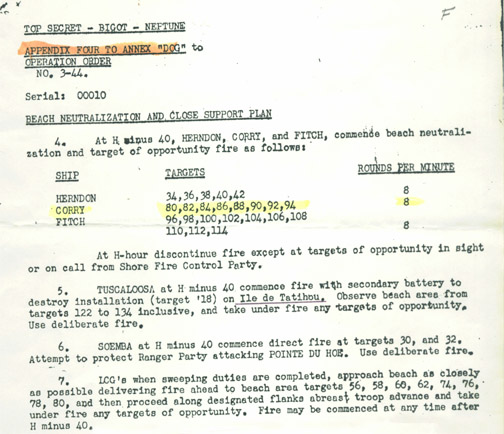 BELOW:
USS Corry Bombardment Area Showing Corry's Strongpoint Target
Numbers 80 through 94 and other Target Numbers.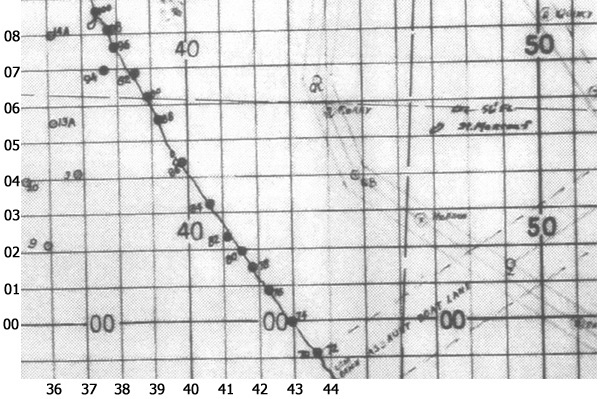 Examples for reading the grid:
Target 86 is at grid coordinates 397 046. Target 3 (Saint Marcouf Battery) is 368 042.

Source: Grid chart-map from USS Quincy (CA-71) Action Report. Serial 008. 29 June 1944.

BELOW: Utah Beach Enemy Batteries Closest to USS Corry.

Area marked C O R R Y shows waters USS Corry fired from.
Batteries closest to USS Corry were Target Numbers 3, 6A, 9, 13A, and 14A.
Target number 3 is the Saint-Marcouf / Crisbecq battery.
See description of these batteries in Intelligence report below map.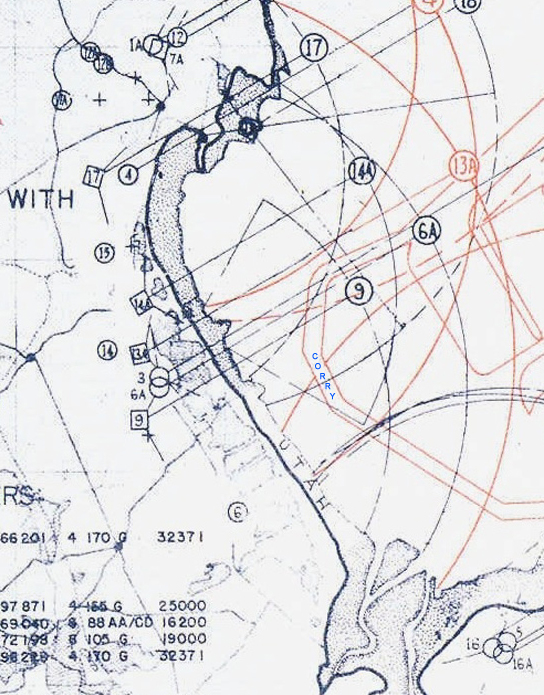 Above: Excerpt of US Army Batteries Map with Battery Target Numbers.
Note: Above Batteries map does not show enemy strongpoint target
numbers -- many strongpoints had 88-mm and 75-mm guns.
Strongpoints had much higher target numbers than batteries,
as seen in chart-map showing Corry's target numbers 80 through 94.

BELOW: Excerpts from Post-D-Day Intelligence report
describing enemy batteries closest to USS Corry.

Target number 3 is the Saint-Marcouf / Crisbecq battery. The 210-mm
guns had a range of 32,800 yards -- 18.5 miles -- and they fired on
the USS Corry at less than 3 miles -- virtually point-blank range.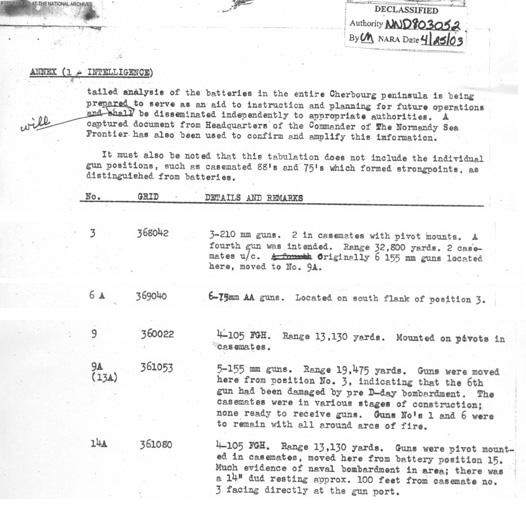 Above: Description of Utah Beach batteries closest to USS Corry.


BELOW: Task Force "U" Operation Report Excerpt - 21 June '44
Giving Details on Utah Beach Batteries, including Saint Marcouf.
Entry (4) gives detailed description of the Saint-Marcouf / Crisbecq battery which scored direct hits on the USS Corry. In addition to its three 210-mm long-range guns, there were six 88-mm guns.

While entry (5) states that personnel manning Utah Beach's 19 or 20 batteries were not believed to be first line, D-Day accounts of USS Corry shipmates indicate that the gunners of the Saint-Marcouf / Crisbecq battery performed first-class shooting. Understandably, since Saint-Marcouf / Crisbecq had the biggest guns that could do the most damage, the best gunners would be likely to man the battery. See reference to Oberleutnant Walter Ohmsen below report image.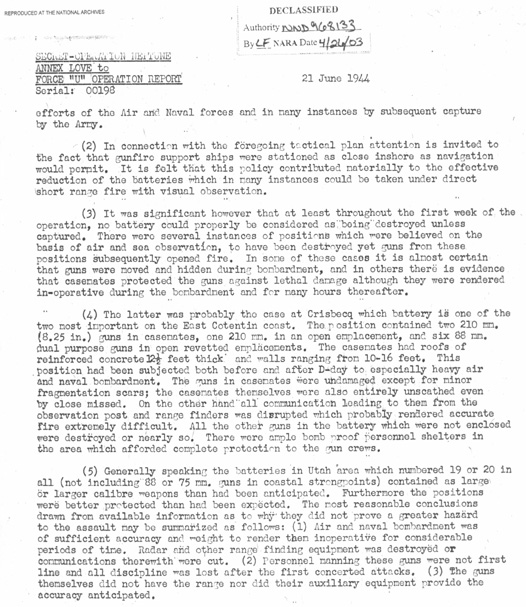 Oberleutnant Walter Ohmsen, commander of the Saint Marcouf Battery.

Born on June 7, 1911. Joined the German Navy in April, 1929. Prior to commanding Saint Marcouf, he was German Navy chief of instruction in telemetry at the marine artillery school of Sassnitz. Wounded during the invasion, he received the Knights Cross for his efforts in repelling the attack. He was captured in late June 1944.
CLICK HERE

TO VIEW

GERMAN D-DAY REPORTS


FROM THE SAINT-MARCOUF BATTERY
WITH ENGLISH TRANSLATIONS

BELOW: Report excerpt entry (2) describes typical enemy
strongpoint - target number 70. This strongpoint is similar
to those fired on by USS Corry on D-Day. Target 70 was
assigned to the destroyer USS Hobson (DD-464), which
was firing near USS Corry (see map below report).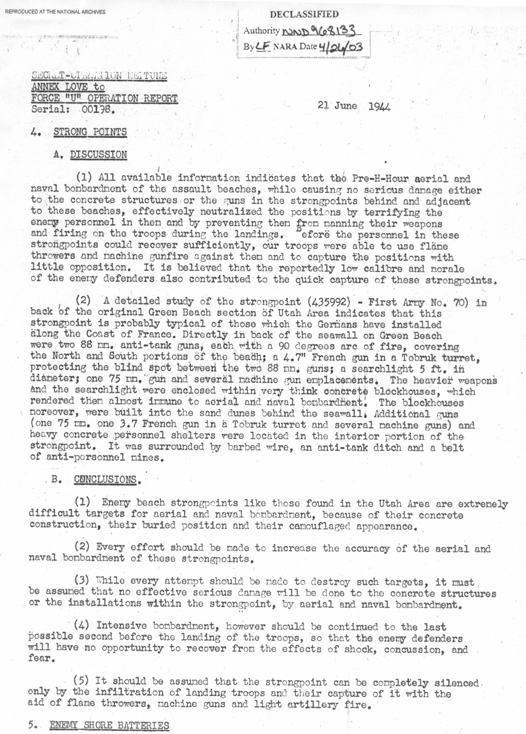 BELOW:
Map excerpt of Utah Beach sectors showing positions
of USS Corry (DD-463) and USS Hobson (DD-464).
Green Beach section referred to in Entry (2) of above report excerpt
(where Target 70 was located) is in "TARE" sector of Utah Beach
on below map.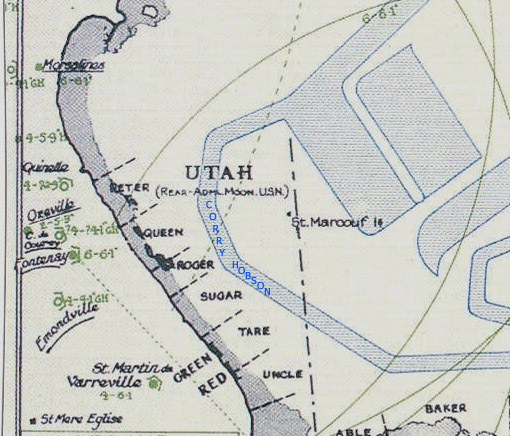 After viewing above maps and reports, you will be better able to appreciate what Utah Beach bombardment ships were describing in their D-Day action reports.
Click here to read other ships' D-Day battle reports
USS Nevada, USS Tuscaloosa, USS Quincy, USS Hobson, USS Fitch, USS Butler, PT-199, USS Barnett